Test Strip Inspection Machine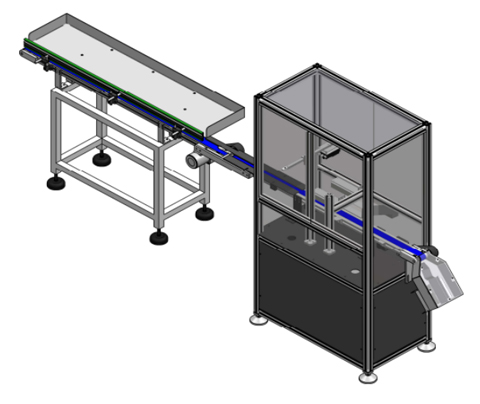 The System is designed to Identify following defects on Test Strips :
Short Molding Samples
Print Missing Samples
BELOW IMAGES SHOWS THE CAMERA RESULT FOR OK AND BAD SAMPLES :
OK SAMPLE
BAD SAMPLE
Manual Feeding Conveyer :
Individuals can manually keep loading the samples which are carried in uniform fashion for Inspection.
Gap creating Inspection Conveyor :
This is a Differential Speed Conveyor which will create gap between two successive samples and then carried to Camera Inspection System for sorting purpose.
Single Color Camera based Inspection Station :
This is a Single High Resolution Color Camera System used to Identify the Visual and Printing defects on the Test Strips Samples
High Speed Rejection Mechanism with OK Batch Counting System :
This consists of a High-Speed Solenoid Valve driven by a High-Speed PLC depending upon the Result given by Camera System.
PLC & HMI based Control Panel :
A High-Speed PLC controls the complete Machine functionality. A 7" Touchscreen HMI is used to operate the Machine and Control the features. VFD-2Nos are used to control the speed of the Conveyors. All required Electrical Protection Hardware will be present for Electrical Safety purpose.
System designed will be capable of inspecting 120 to 150 Test Strip per minute depending on the flow of the material, which will be manually fed in Orientation.